Greetings! I'm Bryan Leaman, owner of Bits 'N Bytes. I've been working with computers since I was six years old. My first machine was a Radio Shack Color Computer (Coco) 1 with 64KB of RAM. It's amazing how technology has progressed since then.
How it Started
Bits 'N Bytes is a small side-business that began as a hobby back in 1989. I started up a bulletin board system (BBS) just after I bought my first 2400bps modem. The BBS became rather busy, and as it began growing, it was difficult for me to support it financially (I was still in high-school!) I started accepting donations, which became "subscriptions" in 1994, and the company Bits 'N Bytes was born.

When the Internet came into the media spotlight a few years ago, I began to do consulting for friends and local companies that wanted to get "on the Internet." Most of my work is now in web site development and hosting, although I also provide limited consulting as well.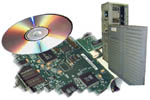 Web Development
Site Design
Application Design
Secure Transactions

Systems
Windows 95/NT
Solaris SPARC/x86

Networking
Internet
Ethernet
PPP
IP Routing
Remote Access